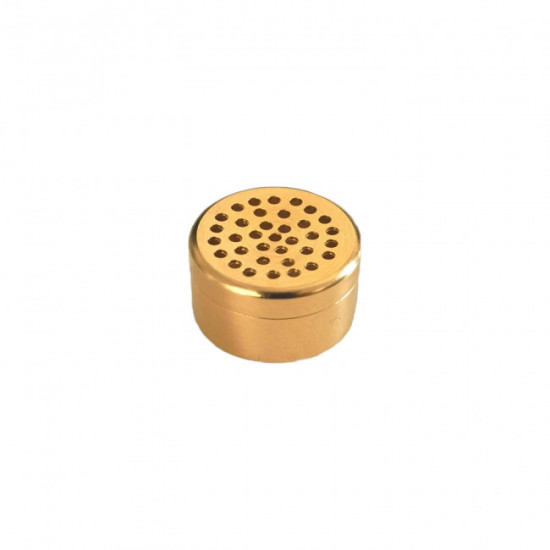 My/Cy FTV - Gold Plated Dosing Capsule
Gold Plated Dosing Capsule Mighty/Crafty - FTV
Description
Gold Plated Capsule Doser for Mighty, Crafty and Crafty+ from French Touch Vaporizer (FTV).

Gold Plated Dosing Capsule for MIghty/Crafty FTV is the ultimate alternative to the original aluminum dosing capsules!

In addition, our Gold Plated Copper Dosing Capsule for Mighty/Crafty FTV offers you better thermal conductivity while being stronger.
The Gold Dosing Capsule for Mighty and Crafty allows you to get rid of the aluminium of the original capsule!
Among the best portable vaporizers on the market, it is impossible not to mention the Mighty, the Crafty and the Crafty+.
Indeed, these vaporizers made in Germany offer far superior performance compared to the competition!

Thus, the French Touch Vaporizer specialist is proud to present the Gold Plated Dosing Capsule compatible with the whole Storz and Bickel range.
Indeed, this capsule can be used with the Plenty and the Volcano Classic, Digit and Hybrid with their chamber reducers!





FTV's Gold-Plated Copper Capsule, respectful and efficient
As we said earlier, our objective was to separate from Aluminium. However, we also wanted to improve the performance of the product!

Therefore, we chose Copper as the design material for our Dosing Capsule, thanks to its high thermal conductivity.
Indeed, Copper has a thermal conductivity of 390 (W m-1 K-1) while Aluminum has a thermal conductivity of 237 (W m-1 K-1).
This means that the Gold Plated Copper Dosing Capsule heats and cools faster than the original! However, it turns out that oxidized Copper is toxic to the body, so we plated it with Gold to avoid this phenomenon.

Gold is anti-allergenic and respects your health perfectly!

Indeed, Gold is widely used for the manufacture of prostheses in medicine.